Sex, Suffrage, & Scandal
in Gilded Age New York
A nonfiction narrative of 1872 New York, a city convulsing with social upheaval and sexual revolution and beset with all the excitement and challenges a moment of transformation brings.
As 1872 begins, the New York Times headlines four stories that symptomize the decay in public morals the editors so frequently decry. Financier Jim Fisk gunned down in a love triangle. Suffragist and free lover Victoria Woodhull running for president. Vice hunter Anthony Comstock battling smut dealers poisoning children's minds. Abortionists thriving.
Through the year these stories intertwine in ways unimaginable, pulling in others famous and infamous – suffragists Susan B. Anthony and Elizabeth Cady Stanton, Brooklyn's beloved preacher Henry Ward Beecher, the nation's richest tycoon Cornelius Vanderbilt, William Howe, preeminent counsel to the criminal element.
Through the lives of these larger-than-life characters, the issues of the day play out – rigged elections, everyday shootings, attacks on the press, sexual impropriety, reproductive rights, the chasm between rich and poor – issues holding up a mirror to the country today. Political parties split over a bitterly contested election, suffragist battles suffragist over bettering women's place in society, pious saints fight soulless sinners, until at year-end this jumble of conflicts explodes in the greatest sensation of the nineteenth century.
"Solid Research and Outstanding Storytelling"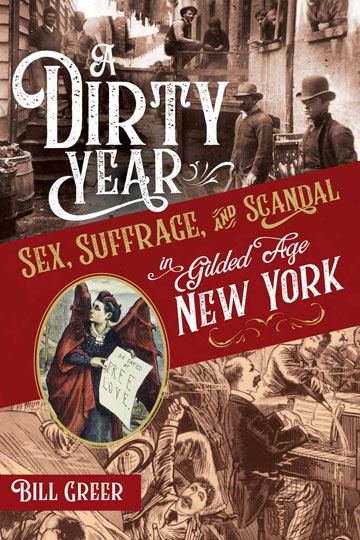 From Chicago Review Press, 2020
Formats: Hardcover, Kindle, EPUB, Nook, Audio
Want to Support Your Local Bookstores?
Find them on IndieBound or contact them directly.
Bill's Talks
Bill offers a variety of talks on New York's Gilded Age & its Dutch era, on Women's Suffrage circa 1870 & Victoria Woodhull's campaign for president, and on adventure travel. Contact him at Bill at BillsBrownstone.com.
A Dirty Year Extended Endnotes
The published book includes endnotes only for quotations. Readers interested in comprhensive sourcing can download Full Endnotes Here.