Nanne and Thomas Beech
"Come sundown, Nanne would show up at The Spotted Cow. She'd drink a tankard with Thomas like the good wife she wasn't. An hour later, she'd be flirting by the hearth, and an hour more, the strings of her bodice would slip a few grommets. Thomas didn't seem to mind her wares spilling out so long as nobody touched."
-- Jackie Lambert describing Nanne Beech in her tavern, in
The Mevrouw Who Saved Manhattan
.
Nanne Beech didn't let much get in the way of her fun, least of all her husband. In 1638, the surgeon Harmen van den Bogaert observed her at a neighbor's house "appearing merry." Strong drink making her frisky, Nanne spent the evening fumbling at the breeches of all the men present. Her husband Thomas begged her to come home, but she was not to be persuaded.
That particular evening was a relatively innocent one for Nanne. Not so another night when Nanne opened her home to two guests, Edward Wilson and Francis Lastley. According to Wilson, Nanne offered a little too much hospitality to Lastley.
Proclaiming her innocence, Nanne, or perhaps her husband Thomas, sued Wilson for slander. Wilson testified he was sick abed while staying with the Beeches. Thomas was out hunting. Feeling lonely, or taking advantage of a good situation, Nanne cosied up to Lastley. As their affections progressed, Nanne called out three times to make sure Wilson was asleep. He pretended to be. But he kept one eye cocked open as Nanne lay upon the bed with Lastley, manipulating his "male member" and engaging in "carnal conversation."
No word survived on how the court decided the slander case. But Thomas took his wife's adulterous ways hard. In a very depressed state a year later, Thomas declared he should not live another fortnight, or a month at the longest. His prophecy proved true. Within a year, Nanne had captured a second husband.
For more of the bawdy world of Dutch Manhattan, check out Sex and the City: The Early Years.
Bill's Books
The Mevrouw Who Saved Manhattan
A Novel of New Amsterdam by Bill Greer
A "romp through the history of New Netherland that would surely have Petrus Stuyvesant complaining about the riot transpiring between its pages ... Readers are guaranteed a genuine adventure that will evoke the full range of human emotions. Once begun, they can expect to experience that rare difficulty in putting down a book before they have finished."
-- de Halve Maen, Journal of the Holland Society of New York
_________________________
A DIRTY YEAR
Sex, Suffrage & Scandal in Gilded Age New York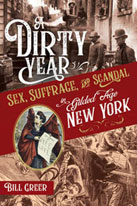 A nonfiction narrative of 1872 New York, a city convulsing with social upheaval and sexual revolution and beset with all the excitement and challenges a moment of transformation brings.
From Chicago Review Press, 2020