"SHE DESERVES IT"
"Mrs. Margaret Sanger, founder of the Birth Control League, has been awarded the annual medal of the American Woman's Association ... for the qualities of 'vision, integrity and valor' ... Such is the common sense of what she has been saying ... that people have at last begun to listen and believe. Her victory is not by any means complete, but the dragons are on the run."
- New York Herald Tribune, Nov. 13, 1931. Sanger opened America's first birth control clinic in Brooklyn in 1916.
A NATION'S ANNIVERSARY
Impressive Exercises at St. Paul's and the Sub-Treasury – The Monster Parade from the Battery to the Park – Fifty Thousand Men in Line and a Million Looking On
- New York Times, May 1, 1889
The occasion was the centennial of George Washington's inauguration. Pictured below is the Reverend Dr. R. S. Strong offering a prayer on the site of the Old City Hall where Washington took the oath.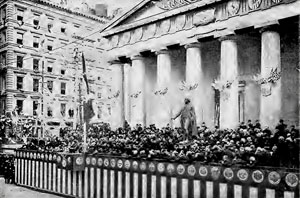 AN ENGLISH POET'S VIEW OF NY
"An architecture conceived in a child's dream ... glittering clamor of myriad windows set like colored diamonds."
- Mina Loy upon sailing into the harbor and seeing the skylilne, 1916
Sex, Suffrage, & Scandal
in Gilded Age New York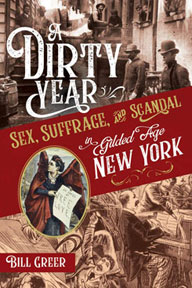 A nonfiction narrative of 1872 New York, a city convulsing with social upheaval and sexual revolution and beset with all the excitement and challenges a moment of transformation brings.
And from New York's Dutch Era
A Novel of New Amsterdam
The Mevrouw Who Saved Manhattan
"[A] romp through the history of New Netherland that would surely have Petrus Stuyvesant complaining about the riot transpiring between its pages."
- de Halve Maen, Journal of the Holland Society of New York