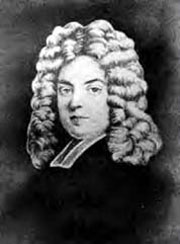 Dominie Everardus Bogardus
Dominie Everardus Bogardus​​​​​​​
"Reverend Bogardus liked his beer more than he disliked associating with sinners so he spent most evenings at The Spotted Cow."
-- Jackie Lambert describing one of her tavern's most loyal customers in
The Mevrouw Who Saved Manhattan.
In 1633, Dominie Everardus Bogardus arrived in New Amsterdam to take over the pastoral duties. Reverend or not, Bogardus was no saint. For starters, he shared with many Dutchmen a fondness for drink. More than once he was accused of stumbling over his feet getting into the pulpit or over his words when he got there. While the drink might lead to a good tongue-lashing for his congregation, it also led him to abuse his companions over dinner, in the tavern, during weddings and on most any occasion.
One hot Sunday in the summer of 1634, Bogardus took on Director Wouter van Twiller, with whom he had shared the ship De Soutberg on the way over. "A child of the devil," Bogardus fumed against his compatriot, "an incarnate villain, buck goats are better than he." He'd pitch the Director from the pulpit if he dared show his face the following Sunday.
Bogardus reserved his special ire for the Director who followed Van Twiller several years later, Willem Kieft. He wasn't too off the mark when one Sunday in January 1645, he fulminated against Kieft from the pulpit. "What else are the greatest in the land but vessels of wrath and fountains of evil?" the Dominie accused. "Men aim at nothing but to rob one another of his property , to dismiss, banish and transport."
While that sermon was sufficiently insulting to keep Director Kieft away from church, Bogardus was just warming up. As the end of the year approached, he preached exactly what the whole town was thinking after Kieft had started an Indian war. A monster, Bogardus called Kieft. He could understand how in Africa such a monster might be produced, where on account of the great heat, wild animals of different types copulated together and produced abominable offspring. But he just couldn't understand it in the temperate clime of New Netherland.
Their fates were tied, Bogardus and Kieft's. When Peter Stuyvesant took over in 1647, the pair climbed the gangway of the Princess Amelia to return to Holland. Confining them together aboard a cramped ship was perhaps a just punishment for the sinning they engaged in. But fate would turn even crueler. The ship wrecked off the coast of England, consigning the pair to share eternity in the depths of the Atlantic.
More New Amsterdammers
Bill's Books
The Mevrouw Who Saved Manhattan
A Novel of New Amsterdam by Bill Greer
A "romp through the history of New Netherland that would surely have Petrus Stuyvesant complaining about the riot transpiring between its pages ... Readers are guaranteed a genuine adventure that will evoke the full range of human emotions. Once begun, they can expect to experience that rare difficulty in putting down a book before they have finished."
-- de Halve Maen, Journal of the Holland Society of New York
_________________________
A DIRTY YEAR
Sex, Suffrage & Scandal in Gilded Age New York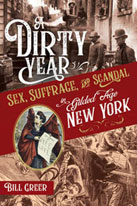 A nonfiction narrative of 1872 New York, a city convulsing with social upheaval and sexual revolution and beset with all the excitement and challenges a moment of transformation brings.
From Chicago Review Press, 2020