Sex and the City: The Early Years
A Bawdy Look at Dutch New York
Part 1 of 3
Go to: Part 1 - Part 2 - Part 3
[Full story also available as a PDF download]
FOUR HUNDRED YEARS BEFORE Carrie Bradshaw and the girls burst onto the New York scene in Sex and the City, Griet Reyniers invented the role of the New York woman on the prowl. In 1633, Griet stepped off the ship de Soutberg, the Salt Mountain, and onto the Manhattan shore.
The tiny village of New Amsterdam was eight years old. Two hundred people lived there. The de Soutberg was also bringing a new Director appointed by the Dutch West India Company, which ruled the place. Wouter van Twiller was the 27-year old nephew of a high official of the Company, Kiliaen van Rensselaer. Van Rensselaer wasn't one of their Honors the Nineteen who governed the Company, more likely number twenty-two or three. Today, his name is memorialized in Rensselaer, NY, and the Rensselaer Polytechnic Institute. Van Twiller seems awfully young for the weighty responsibility of ruling a distant outpost. Tub as his Uncle Kiliaen liked to say, "one cannot accomplish as much by doing well as by having friends in the game." Maybe that's how Van Twiller got the job.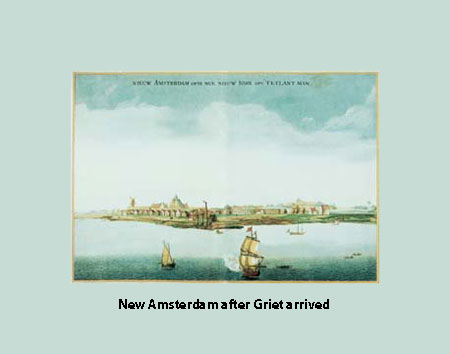 Van Twiller had either hooked up with Griet in an Amsterdam tavern, where she was known for hoisting her petticoats in the back room, or aboard ship, where she entertained herself pulling sailors' shirts out of their breeches. Whichever, he liked his first taste and took her for his mistress, making Griet New York's first high class hooker.
Within five years, Van Twiller ran afoul of his Amsterdam masters and was recalled to Holland. He broke things off with Griet. Having his own personal whore in the wilderness was one thing, quite another to traipse into his Uncle Kiliaen's Amsterdam drawing room with Griet on his arm. If anyone questioned her character, she would likely turn around, lift her skirt and tell them to have a good lick on the bare rump she was slapping. That's exactly what she'd done on Pearl Street when sailors called out, "Whore, whore, two pounds butter whore!" Lifted her skirt, slapped her rump and yelled back, "Blaes my daer achterin." In today's vernacular, that would translate as Kiss My Ass.
Getting thrown over by her sweetheart didn't slow Griet down. She marched into the fort by Bowling Green and declared, "I have long enough been the whore of the nobility, now I want to be the whore of the rabble." To attract customers, Griet was known to wave her broomstick around, challenging prospective tricks to test their manliness against it.
At some point Griet grew tired of her philandering ways and got married, or maybe not so tired as her philandering continued after the wedding. Her husband was Anthony Jansen van Salee, better known as the Turk. The Van Salee part of the name came from the African port his Dutch father sailed from as Admiral of a Sultan's fleet. His nickname the Turk came from the Moroccan woman the Admiral bedded. Anthony's mother gave her son his swarthy skin, but he behaved more like the pirate his father had turned into. As a cantankerous troublemaker, he was a good match for Griet.
Serious trouble started when the couple got into a dispute with the Reverend Everardus Bogardus, a Dominie of the Dutch Reformed Church who arrived with Van Twiller and Griet.
Dominie or not, Bogardus was no saint. For starters, he shared with many Dutchmen a fondness for drink. More than once he was accused of stumbling over his feet getting into the pulpit or over his words when he got there. While the drink might lead to a good tongue-lashing for his congregation, it also led him to abuse his companions over dinner, in the tavern, during weddings and at most other occasions. In one sermon, he accused Director Willem Kieft, who succeeded Van Twiller, of being a child of the devil, no better than a buck goat. Bogardus could understand how such a monster might be produced in Africa, where on account of the great heat, wild animals of different types copulated together and produced abominable offspring. But he couldn't understand it in the temperate clime of New Amsterdam.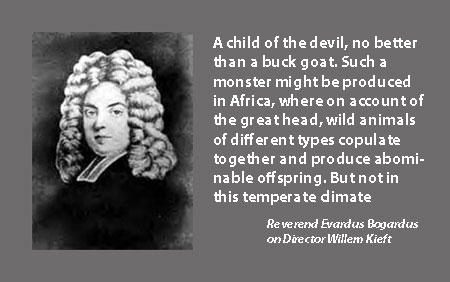 Reverend Bogardus grew a bit riled when Griet called his wife Anna a whore. The insults had started flying when the court ordered the Turk to pay 319 guilders he owed the Dominie. Van Salee refused, rather he countersued that Bogardus owed him 74 guilders. Bogardus denied it in court but finally owned up to a debt of seven guilders.
Griet was incensed. The holy man Bogardus swore a false oath over those seven guilders, she charged. Questioning a man's honor in that way was a serious accusation. To top it off, Bogardus's wife Anna lifted her skirt in public like a common whore, Griet and Anthony claimed. Imagine such immoral behavior by a preacher's wife!
But other witnesses testified that Anna merely raised her hem while she was crossing a rough and muddy road. Griet and Van Salee had gone too far. The court ordered Griet to swear under oath that Bogardus was no perjurer and to beg his forgiveness. Van Salee had to acknowledge that Anna was an honorable and virtuous woman.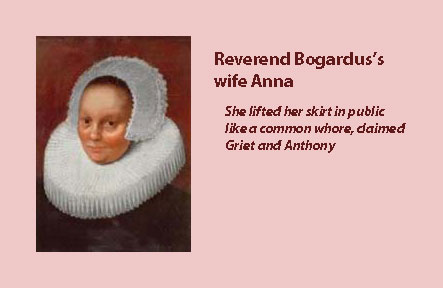 That punishment didn't stop Griet or the Turk from raising hell, however. After a couple more incidents, Director Kieft banished the couple from New Netherland. Griet and Van Salee had six months to wrap up affairs and depart.
But before six months were out, a child was on the way. To support the baby, Director Kieft granted the Turk two hundred acres of Long Island waterfront. Manhattan's first whore moved to Brooklyn, finishing out her life as a respectable farmer's wife.
Well, not so respectable. When she bore her child, Griet begged the midwife to say who the child resembled, her husband the mulatto Turk or Andries Hudde. "If you do not know who the father is," the midwife said, "how should I?"
Go to: Part 2
Bill's Books
The Mevrouw Who Saved Manhattan
A Novel of New Amsterdam by Bill Greer
A "romp through the history of New Netherland that would surely have Petrus Stuyvesant complaining about the riot transpiring between its pages ... Readers are guaranteed a genuine adventure that will evoke the full range of human emotions. Once begun, they can expect to experience that rare difficulty in putting down a book before they have finished."
-- de Halve Maen, Journal of the Holland Society of New York
_________________________
A DIRTY YEAR
Sex, Suffrage & Scandal in Gilded Age New York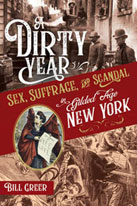 A nonfiction narrative of 1872 New York, a city convulsing with social upheaval and sexual revolution and beset with all the excitement and challenges a moment of transformation brings.
From Chicago Review Press, 2020