Living Descendants of Griet Reyniers & Anthony Jansen van Salee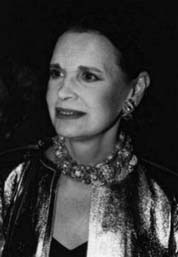 Gloria Vanderbilt
Anderson Cooper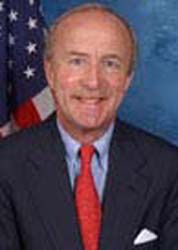 Former Congressman Rodney Frelinghuysen
Griet Reyniers
New York's First Whore
"I have long been the whore of the nobility. From now on I shall be the whore of the rabble."
-- Griet Reyniers
In 1633, Griet Reyniers stepped off the ship de Soutberg and onto the Manhattan shore. The tiny village of New Amsterdam was eight years old. Two hundred people lived there. The de Soutberg was also bringing a new Director appointed by the Dutch West India Company, which ruled the place. Wouter van Twiller had either hooked up with Griet in an Amsterdam tavern, where she was known to hoist her petticoats in the back room, or aboard ship, where she entertained herself pulling sailors' shirts out of their breeches. Whichever, he liked his first taste and took her for his mistress, making Griet New York's first high class hooker.
Being the Director's mistress didn't change Griet's ways. At the ship's departure back to Holland, the sailors yelled, "Whore, whore, two pound's butter whore!" Griet turned around, lifted her skirt and slapped her rump. "Blaes my daer achtering!" she shouted, suggesting what they could do to her backside.
At some point, Van Twiller threw Griet over, insipiring her return to the rabble in the quote above. Subsequent court testimony described her measuring the male members of prospective customers against a broomstick.
Five years after arriving, Griet married another troublemaker, Anthony Jansen van Salee, known as the Turk. Marriage didn't change her ways. Upon popping out one of her four daughters, she cried to the midwife, "Who's she look like, Andries Hudde or Anthony?" The midwife assured her the child was somewhat brown, indicating her mulatto husband the Turk had indeed planted the girl inside her.
A run-in with the town's Domine, Reverend Bogardus, landed the couple in serious trouble. In a dispute over a debt, Griet and Anthony called the Domine a perjurer and accused his wife Anna of liting her skirt like a common whore. When witnesses swore Anna was simply holding her hem out of the mud, the Director of the moment banished the pair. But with another child on the way, he commuted the sentence and granted Anthony 200 acres of Long island waterfront to support the growing family.
Griet passed something of herself to the New York of today. Six generations down the line, her daughter Annica produced Commodore Cornelius Vanderbilt, the richest man of his era. That makes Griet the great-grandmother generations back of fashion designer Gloria Vanderbilt, museum benefactor Gertrude Vanderbilt Whitney, two Dukes of Marlborough and a host of Lords and Ladies they begat and CNN celebrity Anderson Cooper. Through daughter Eva, Griet led to several senators and congressmen in the Frelinghuysen family, including a current member of the House of Representatives, Congressman Rodney Frelinghuysen of New Jersey.
"Griet Reyniers waltzed up Pearl Street. She'd cinched a belt of red satin around her middle. Her slender waist connected a pair of melons riding high on the chest to hips that swayed like a ship anchored in our bay. By the time she reached my door, a line of men trailed behind like she was the Pied Piper of Hamelin."
-- Jackie Lambert describing Griet in
The Mevrouw Who Saved Manhattan.
Bill's Books
The Mevrouw Who Saved Manhattan
A Novel of New Amsterdam by Bill Greer
A "romp through the history of New Netherland that would surely have Petrus Stuyvesant complaining about the riot transpiring between its pages ... Readers are guaranteed a genuine adventure that will evoke the full range of human emotions. Once begun, they can expect to experience that rare difficulty in putting down a book before they have finished."
-- de Halve Maen, Journal of the Holland Society of New York
_________________________
A DIRTY YEAR
Sex, Suffrage & Scandal in Gilded Age New York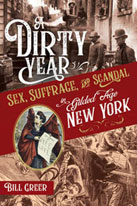 A nonfiction narrative of 1872 New York, a city convulsing with social upheaval and sexual revolution and beset with all the excitement and challenges a moment of transformation brings.
From Chicago Review Press, 2020