Fiction
Time and Again. Jack Finney wrote marvelous stories about time travel in New York. In this 1970 novel, illustrator Si Moreley moves into the Dakota (John Lennon's home). As part of a secret government project, his apartment recreates the New York of 1882, with the intent of returning Morley to that year. It works and launches Morley into love and mystery.
Winter's Tale. Mark Helprin builds a brilliant fantasy of nineteenth century New York with a white horse flying through a city shrouded in arctic winds and snow. I have never looked at Grand Central the same since reading this 1983 novel.
Forever. Pete Hamill's 2003 novel of an Irish immigrant who will live forever if he never leaves Manhattan. A journey through New York life from colonial days to the collapse of the World Trade Center.
City of Dreams. Beverly Swerling's 2001 novel follows generations of a New York medical family from Dutch days through the arrival of George Washington after the Revolutionary War.
Empire Rising. In this 2005 novel, Thomas Kelly recreates Depression-era New York through an ironworker who spends his days high atop the rising Empire State Building and his nights doing the bidding of Irish Republicans.
Rules of Civility. Amor Towles's 2011 novel presents an alternative perspective of New York near the Depression's end, that of a working girl on Wall Street whose grit and gumption take her into the city's elite social circles.
History
The Island at the Center of the World. In its title, Russell Shorto's history might capture how modern-day New Yorkers view their city, but he's giving us an enlightening romp through our Dutch past.
The Great Bridge: The Epic Story of the Building of the Brooklyn Bridge. An outcry arose with the towers of the Great East River Bridge. How could a utilitarian work of man tower over a work of God, Trinity Church, the tallest structure in New York? Utilitarian hardly describes the engineering marvel of the Roeblings, father and son, chronicled in David McCullough's narrative that soars like the bridge itself.
Gotham: A History of New York City to 1898. Perhaps Edwin G. Burrows and Mike Wallace didn't know the origin of the term when they named their mammoth 1999 history, or perhaps it was an inside joke. While Washington Irving popularized the city's nickname, its origin goes back to Anglo-Saxon England, when Gotham meant "goat town." According to folklore, the town's people became wise fools by acting insane so as to avoid paying taxes. They became the butt of jokes about a village of idiots. The book is no joke though, it's an epic saga.
The City in Slang. If you are into language, Irving Lewis Allen has written an entertaining book about New York life and popular speech. The tidbit about Gotham comes from it. A sampling of other terms that New Yorkers coined: shyster, buttinsky, heard on the grapevine, guttersnipe, duded-up, go slumming.
Triangle: The Fire that Changed the World. David von Drehle takes us back to sweatshop New York through a riveting story of a 1911 tragedy, the fire at the Triangle Shirtwaist Company that trapped 123 young seamstresses and launched twentieth-century labor reform. Another book on my list below, New York - Photographs 1850-1950, presents a sequence of events from the fire, including photos of a young woman sewing and shortly after of her bloody face staring from her coffin.
The Battle for New York. Barnet Schecter chronicles New York's central role in the American colonies revolt against England, as both a Tory stronghold and a hotbed of patriotism.
​​​​​​​Incredible New York: High Life and Low Life from 1850 to 1950. Lloyd Morris traces a journey from the heights of society to the depravity of skid row. Originally published in 1951, the book is back in print.
The Big Oyster. Mark Kurlansky's 2006 History on the Half Shell uses the lowly bivalve that once made New York harbor one of the great oyster beds of the world to follow New York from Indian days to world metropolis.
​​​​​​​ ​​​​​​​Satan's Circus: Murder, Vice, Police Corruption and New York's Trial of the Century. A Brooklyn preacher dubbed midtown Manhattan's turn-of-the-century vice district Satan's Circus. Mike Dash's 2007 book brings to life the area presided over by the "crookedest cop who ever stood behind a shield."
​​​​​​​
Other Nonfiction
The Islanders. When I moved to New York, the city was preoccupied with a crazy person. Well not exactly a person, a polar bear actually, the psychotic Gus who lived in the Central Park Zoo. My favorite travel writer Jan Morris used Gus as a mirror of the people of New York in her 1979 essay for Rolling Stone, republished in her book Destinations. The essay alone is worth finding the book.
New York: Photographs 1850 to 1950. Nothing tells the story of New York like the 750-plus photographs Benjamin Blom compiled for his 1982 ode to the city. It's out of print but well worth the trouble of digging it up and the hefty price, or at least a trip to the library.
Sex, Suffrage, & Scandal
in Gilded Age New York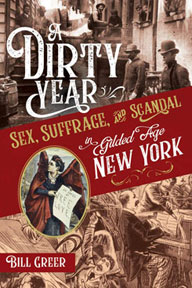 A nonfiction narrative of 1872 New York, a city convulsing with social upheaval and sexual revolution and beset with all the excitement and challenges a moment of transformation brings.
"Solid Research and
Outstanding Storytelling"
- Booklist
And from New York's Dutch Era
A Novel of New Amsterdam
The Mevrouw Who Saved Manhattan
"[A] romp through the history of New Netherland that would surely have Petrus Stuyvesant complaining about the riot transpiring between its pages."
- de Halve Maen, Journal of the Holland Society of New York