Joost Goderis
An Early Cuckold
Joost Goderis learned the hard way that trouble in the marriage bed could be no private matter in New Netherland. Returning from a day of oystering near Ellis Island, Goderis was met by a group of men who had taken an interest in his wife. Claiming that one of the town's schepens, Allard Anthony, had had the woman on her back, they called out Goderis ought to wear horns like cattle in the woods. One went so far as to ask Joost to permit him to lay where Allard lay, to have sexual connection with the lady himself. Blows soon followed and before the melee ended, Goderis suffered not only the humiliation of being one of New York's early public cuckholds but a sliced neck as well.
For more of the bawdy world of Dutch Manhattan, check out Sex and the City: The Early Years.
Bill's Books
The Mevrouw Who Saved Manhattan
A Novel of New Amsterdam by Bill Greer
A "romp through the history of New Netherland that would surely have Petrus Stuyvesant complaining about the riot transpiring between its pages ... Readers are guaranteed a genuine adventure that will evoke the full range of human emotions. Once begun, they can expect to experience that rare difficulty in putting down a book before they have finished."
-- de Halve Maen, Journal of the Holland Society of New York
_________________________
A DIRTY YEAR
Sex, Suffrage & Scandal in Gilded Age New York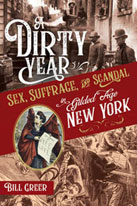 A nonfiction narrative of 1872 New York, a city convulsing with social upheaval and sexual revolution and beset with all the excitement and challenges a moment of transformation brings.
From Chicago Review Press, 2020