Mark of the Turk
Anthony Jansen van Salee
"Whether or not Salee sympathized with Indians other than sharing savage habits, he sure supported his friends when somebody larger picked on them."
-- Jackie Lambert expresssing an alternative
view of the Turk's character in The Mevrouw Who Saved Manhattan.
Anthony Jansen van Salee, the Turk, arrived in New Amsterdam about 1633. For the next forty years, he stirred up trouble. He took his surname from the Moroccan seaport of Salee, where his Dutch father admiraled a sultan's fleet. His nickname came from the local woman the admiral bedded, who presumably raised her son Mohammedan, making him New York's first Muslim - by upbringing only since no one would call him a religious man.
New Amsterdam was a litigious place, and Anthony was involved in more than his share of lawsuits. Within five years, Anthony was hauled into court for stealing wood, paying wages he owed with a dead goat, allowing his dog to kill a neighbor's hog, pointing a loaded pistol at the overseer of the West India Company's slaves, threatening a debt collector with bloodshed if he insisted on the money owed and slandering any number of people.
As if he couldn't create enough trouble himself, Anthony married Griet Reyniers, former mistress to an early Director turned whore of the rabble. The couple together ran afoul of the local clergyman and his wife, an escapade that could not go unpunished.
For more of the bawdy world Anthony and Griet helped create on Manhattan Island, check out Sex and the City: The Early Years.
Bill's Books
The Mevrouw Who Saved Manhattan
A Novel of New Amsterdam by Bill Greer
A "romp through the history of New Netherland that would surely have Petrus Stuyvesant complaining about the riot transpiring between its pages ... Readers are guaranteed a genuine adventure that will evoke the full range of human emotions. Once begun, they can expect to experience that rare difficulty in putting down a book before they have finished."
-- de Halve Maen, Journal of the Holland Society of New York
_________________________
A DIRTY YEAR
Sex, Suffrage & Scandal in Gilded Age New York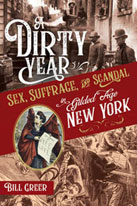 A nonfiction narrative of 1872 New York, a city convulsing with social upheaval and sexual revolution and beset with all the excitement and challenges a moment of transformation brings.
From Chicago Review Press, 2020