Grietje Westercamp
A Jilted Woman
Grietje Westercamp was a good girl, really she was. She loved Pieter Jacobsen, but she wasn't throwing her virginity away until she got the promise. Say you'll marry me, then you can enjoy my pleasures, she told him. He promised, Grietje testified before the court. He is the father of my baby. Make him marry me.
The judges looked at Pieter. A promise of marriage made in the Eyes of God shall remain in force, they ruled.
But I never promised, Peter swore. Grietje Westercamp is a loose woman. She lay under the blanket with Jan van Breeman, and with his daughter in bed beside them.
Juriaen Westvael and his wife backed up Pieter's story, in return for a few coins Grietje believed. The judges pressed Pieter. Did you not enjoy Grietje's pleasures? Did you not promise to marry the girl?
Pieter finally broke under the interrogation. One time, he admitted, one time I lay with the plaintiff. But, he asked, looking at the pregnant girl, how can a woman be thirteen months in the family way? He wasn't the father and he had never uttered a word about marriage. Where was her proof?
Proof? the judges asked. Did Grietje have her promise in writing? Or could she bring witnesses who had heard Pieter say it, and had the couple exchanged gifts? That would be binding.
Poor Grietje had neither paper, gifts nor witnesses. The court could not force the marriage without proof of the promise.
But he admitted he lay with me, Grietje protested.
True, the judges decided. Pieter has acknowledged a time he lay with the girl and he is bound to pay her for that service. Two hundred guilders.
At least the judges treated Grietje better than a common whore. Two hundred guilders was far above the going rate.
For more of the bawdy world of Dutch Manhattan, check out Sex and the City: The Early Years.
Bill's Books
The Mevrouw Who Saved Manhattan
A Novel of New Amsterdam by Bill Greer
A "romp through the history of New Netherland that would surely have Petrus Stuyvesant complaining about the riot transpiring between its pages ... Readers are guaranteed a genuine adventure that will evoke the full range of human emotions. Once begun, they can expect to experience that rare difficulty in putting down a book before they have finished."
-- de Halve Maen, Journal of the Holland Society of New York
_________________________
A DIRTY YEAR
Sex, Suffrage & Scandal in Gilded Age New York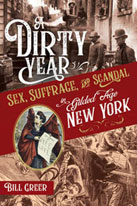 A nonfiction narrative of 1872 New York, a city convulsing with social upheaval and sexual revolution and beset with all the excitement and challenges a moment of transformation brings.
From Chicago Review Press, 2020