TALKS
I offer a variety of talks on New York's Gilded Age and its Dutch Era, as well as talks on women's suffrage and the first woman to run for president.
To inquire about appearances, please contact me at Bill at BillsBrownstone.com.
I got the idea for this irreverent bio from author Erik Larson. He has an "alternative biography" on his web site. I'm hoping he will accuse me of stealing his idea. Then I can ask him to read my book A Dirty Year, tell everybody how great it is. Plus he was born in Brooklyn. We Brooklynites should stick together. We're the same age too, six months apart. And the same alma mater. Whadda ya think, Erik?
When I finished my Ph.D. – or as my wife Diane calls it, my Piled high & Deep degree – we were living in sin in Philadelphia, in the rather rundown neighborhood of West Philly. The Federal Reserve Bank of New York offered me a job studying the urban economy. I took it, the second time someone told me I was ruining my career (my count is up to five now).
One weekend we took the train to Manhattan to look for an apartment. A friend said look in Brooklyn; she had grown up there. "Brooklyn?" we said, "yeah, right, next door to Ralph Kramden." Nonetheless we took the subway to Brooklyn Heights. Getting off at Clark Street, we turned right and immediately hit the promenade looking across the East River at Wall Street. We said yeah, we could do this, stare at that gorgeous view out our living room window.
So we stopped at a real estate office on Montague Street. "West Philly?" the guy said. "Have I got a slum for you." He drove us to a neighborhood a mile further into Brooklyn, Boerum Hill. We stopped on a nice brownstone block. We went in under the stoop to a duplex apartment, two floors, high ceilings, lots of light, a back yard. We took it. The next morning we went back to the neighborhood to look around. From the subway we walked past bull-dozed buildings turned into filthy parking lots. Around the corner from our place, a social club was blaring music outside at 10 am Sunday. Hmm. When we moved in a few weeks later, we stood out front waiting for the truck bringing our stuff. A student living next door told us he'd gotten mugged the prior week. Another fellow wandered by a few times looking lost. Finally we asked if he needed help. Turned out he was searching for his car. It had gone "missing." Hmm.
We loved the place, loved brownstone Brooklyn. A year later we bought our 1887 brownstone in Park Slope. Better neighborhood, near Prospect Park. The house had been renovated a bit but needed lots of work. The doors still had numbers from its rooming-house days (some still do). It sits between 7th and 8th Avenues. Two blocks down, 5th Avenue then was bombed out shells and a hard-core drug market. Our VW Beetle was stolen within two months. We used the insurance proceeds to renovate a bathroom and have never owned another car. The neighborhood has come around since those days. Now we have double-decker buses dropping off tourists who want to admire the brownstone architecture and stroll through Prospect Park.
Diane got a job at Alan Greenspan's consulting company before Ronald Reagan appointed him to the Fed. So I've got a great stock of Greenspan stories. I'll spare you.
I switched jobs at the Federal Reserve Bank after two years, started helping the operations areas cope with a new law requiring them to compete with private banks – my third career-ending move. A year later I went into management consulting in the private sector. It was a perfect job for me. I didn't have to know anything, just had to be quick enough on my feet for people to think I was smart. Diane could tell what I was doing on Monday by what I was reading over the weekend so I didn't sound like a complete idiot. Three years later, Diane was ready to leave her second job at an investment bank. So we decided to travel around the world for six months. That was my fourth career-ending move. But when I told my boss I was leaving, he said I could take a leave of absence. It cost me my next year's raise but that was OK.
We made the big circle – Bora Bora, New Zealand, Australia, Thailand, Burma, Nepal, London, home. The trip led to my first travel stories – see Rara Lake, Wyperfeld, Rangoon, and Pagan.
We both worked in financial services for a few more years, then decided on another trip, this one a couple of months hiking in the Rocky Mountains. It's when I learned to love Wyoming's Wind River.
We went back to work for another year, then decided enough of Wall Street. Near the end of 1994, we started an Internet travel company, GORP.com. That's a few months after Jeff Bezos launched a little bookstore he called Amazon out of his garage. Diane, the technology wizard, really gets the credit for our startup. I kept doing a bit of consulting to fund the venture. Plus I used GORP as a vanity press for my travel stories. The New York Times ran a little piece about that. See "In a Single Wire, A New World."
We had the servers in Diane's office adjacent to our bedroom. We installed a high-speed T1 line to connect to the Internet. We'd wake up in the middle of the night and listen for the disks spinning. Then we'd know the line was still up and people were coming in. After a while we upgraded the servers and the disks were too quiet to hear. Drove us crazy.
We ran the business out of the house for four years, ran the audience up to two million a month and the staff to sixteen. Then the Internet boomed and we raised some capital from the venture vultures, moved the office to Manhattan, bought a company in Colorado, hired a hundred people. And then raised more capital. After that second round, one of our investors told us to spend the money as fast as we could. They didn't care if we wasted 25%, they'd give us more. In case you think the Internet bubble wasn't crazy. Things went south when the bubble burst so we never made our killing. Nor did we ever work harder or endure more stress. But we had SO MUCH FUN for seven years. GORP outlasted us, until 2015.
During those seven years running a travel company, we hardly got to travel, despite plenty of free offers from adventure travel companies we worked with. So we swore from then on we'd travel three months a year, and we've pretty much done it. Mostly we hike in the mountains, the Rockies, Sierras, Alps, Himalaya, Andes. Canyons too, Utah's are our favorites, and we climb around lots of archaeology sites, from the ancestral puebloans out west to ancient civilizations of Southeast Asia. (See Adventure and Galleries in the Brownstone.)
During the other nine months, I started writing books. The first was a novel about a Spaniard and a Portuguese, real-life fellows, who tried to conquer Cambodia in the 1590s. Fascinating story, terribly written. It's locked in a drawer. Next I got heavily involved in New York's Dutch period writing a novel of New Amsterdam, The Mevrouw Who Saved Manhattan. Enough of the fiction, I decided, and wrote my current book, A Dirty Year: Sex, Suffrage, & Scandal in Gilded Age New York. (Erik, that's the one I want you to read – where can I send you a copy?)
Did I mention Alan Greenspan? OK, one story. Before he went to the Fed, Alan lived near the United Nations in Manhattan's east forties. The company's office was at the southern tip of Manhattan. One winter day, a huge snowstorm blanketed the city. Alan usually traveled by taxi but on this day no cars answered the call. No problem, Alan decided, he'd take the subway home. Someone gave him a token (remember those?). Alan headed into the blizzard. A few minutes later, he returned to the office. "Where's the subway?" he asked. Somebody showed him the way.
Did I confess I grew up in Texass? The next time I visit my sister, I'll probably get my butt kicked for that spelling, just an affectionate joke. The state has practically disowned me though. At a big family dinner, Diane once remarked "Bill's a Texan." My father turned and said, "He's not a Texan. Texas is a state of mind, and he doesn't have it." My fault for turning Yankee. No regrets though. My best friend from graduate school got a job in Houston, earned tenure, and has lived there ever since. He's adopted a few strange ideas. We try not to talk politics.
While Diane and I love to travel, New York is home, and it offers as much adventuring as anywhere. For two hikers, the city is a walker's paradise. From our brownstone over the Brooklyn Bridge to Central Park is about ten miles, a good day's outing. And the ever-changing walk down Broadway is the equivalent of passing through ecological zones as you climb a mountain. So if you're visiting from Iowa, bring your best walking shoes. Iowa, one of 46 states I've visited, nice place, friendly people, come meet us in New York, we're friendly too.
How about a Texass joke to wrap things up? Why are Yankees like hemorrhoids? When they come down and go back up, they aren't so bad. But when they stay down, they're a real pain in the ass.
You can drop me a line at Bill at BillsBrownstone.com. If you want to go hiking, visit Diane at hikingwalking.com.
Sex, Suffrage, & Scandal
in Gilded Age New York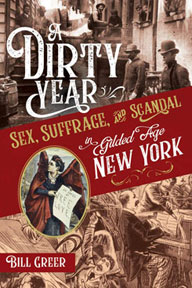 A nonfiction narrative of 1872 New York, a city convulsing with social upheaval and sexual revolution and beset with all the excitement and challenges a moment of transformation brings.
"Solid Research and
Outstanding Storytelling"
- Booklist
And from New York's Dutch Era
A Novel of New Amsterdam
The Mevrouw Who Saved Manhattan
"[A] romp through the history of New Netherland that would surely have Petrus Stuyvesant complaining about the riot transpiring between its pages."
- de Halve Maen, Journal of the Holland Society of New York