19TH CENTURY TO 1860
Click on each image to pop up a larger version.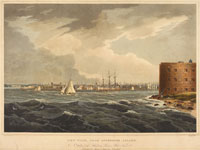 1820: William Guy Wall painted this watercolor from scenes he sketched traveling down the Hudson River in 1820. John Hill engraved it for printing in the 1820s. [Eno Collection of the [New York Public Library]
1824: President Monroe invited the Frenchman Gilbert du Motier, Marquis de Lafayette and hero of the American Revolution, to return to the United States to celebrate the nation's upcoming fiftieth anniversary. This print by artist Anthony Imbert and engraver Samuel Maverick celebrates his landing in NewYork in August. The city partied for four days and nights. [Eno Collection of the New York Public Library]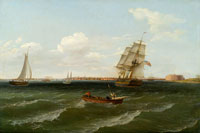 1831: Thomas Birch, a renowned artist of seascapes painted this oil of New York harbor. [New-York Historical Society]
1837: John William Hill painted this watercolor of "New York from Brooklyn Heights." L. P. Clover published it in a series of nineteen American cities. [New York Public Library]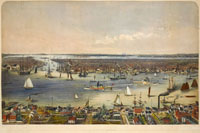 1848: Artists Eliphalet M. Brown and Edgar Foreman collaborated on this view looking south from Williamsburgh in Brooklyn. [Eno Collection of the New York Public Library]
1851: John Bachman produced a number of Manhattan views, including this hand-colored lithograph, "Birds Eye View of New-York & Brooklyn," and the 1855 and 1859 images below. In this one, note that from the green park at the tip of Manhattan, a bridge leads to Castle Garden, the circular building. Compare that to the next image four years later. [New York Metropolitan Museum of Art]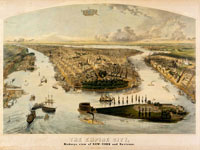 1855: In Bachman's "The Empire City, Birdseye View of NEW-YORK and Environs, the shoreline of the Park extends to hit Castle Garden, with only half of the circular building extending into the water. This presumably reflects one of the many times Manhattan's shoreline has been extended with landfill. Today Castle Garden sits in the middle of Battery Park, far from the shoreline. [New York Metropolitan Museum of Art]
1856: Charles Parsons produced this perspective similar to Bachman's 1855, a perspective popular for the next three decades. [Library of Congress.}
1859: Bachman embraced a very different perspective in this view from far above the earth. [New York Public Library]
Sex, Suffrage, & Scandal
in Gilded Age New York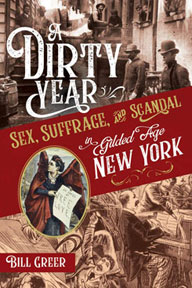 A nonfiction narrative of 1872 New York, a city convulsing with social upheaval and sexual revolution and beset with all the excitement and challenges a moment of transformation brings.
"Solid Research and
Outstanding Storytelling"
- Booklist
And from New York's Dutch Era
A Novel of New Amsterdam
The Mevrouw Who Saved Manhattan
"[A] romp through the history of New Netherland that would surely have Petrus Stuyvesant complaining about the riot transpiring between its pages."
- de Halve Maen, Journal of the Holland Society of New York