Despite Tweed's bravado and Nast's doubt about any punishment, things did not go well for the Boss over the next year. The 1872 election proved disastrous. The Republicans won every city-wide office and at the state level regained the Governorship and large majorities in the Legislature. Tammany Democrats elected a measly six alderman. At the national level, President Grant won another term and Republicans attained super-majorities in both houses of Congress.
Early the next year, Tweed's case went to trial. The jury hung. But he was convicted in a November 1873 retrial. An appeals court reduced his sentence from twelve years to one, but he spent that year in the city's prison the Tombs.
Upon his release, New York State charged him with embezzlement and locked him in Ludlow Street Jail when he couldn't put up 3 million dollars bail. Allowed a visit home, Tweed slipped off to Spain. Thanks to Nast's cartoons, he was recognized, captured and returned to the US. He spent the rest of his life in Ludlow Street Jail, dying there in 1878.
In this late 1872 cartoon, Nast gives his assessment of the 1872 election. Signs in the background (upper riight) read "Tammany Ring Broken" and "Tammany Dead." Perhaps his strongest statement is placing himself in front - so finished is Tammany that Nast has nothing left to do.
Nast celebrates Tweed's downfall in this cartoon with Liberty peering inside a cell whose nameplate reads "W. M. Tweed."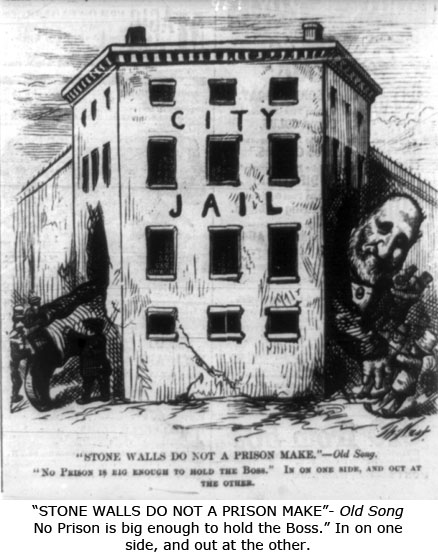 But when Tweed escapes for Spain, Nast laments how no jail can hold him.
When Tweed dies in prison, Nast gives him a parting shot. With the poster above his head reading "Tweed Statue for New York," even the Boss can see that's not in the cards.
Sex, Suffrage, & Scandal
in Gilded Age New York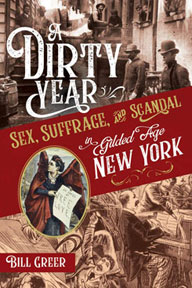 A nonfiction narrative of 1872 New York, a city convulsing with social upheaval and sexual revolution and beset with all the excitement and challenges a moment of transformation brings.
"Solid Research and
Outstanding Storytelling"
- Booklist
And from New York's Dutch Era
A Novel of New Amsterdam
The Mevrouw Who Saved Manhattan
"[A] romp through the history of New Netherland that would surely have Petrus Stuyvesant complaining about the riot transpiring between its pages."
- de Halve Maen, Journal of the Holland Society of New York