At the beginning of 1871, Woodhull revolutionized the women's suffrage movement with a novel strategy. Becoming the first woman ever to address a committee of Congress, she argued that the US Constitution already gave women the right to vote. The Fourteenth Amendment clearly defined all persons born or naturalized as citizens while the Fifteenth Amendment guaranteed all citizens the right to vote.
The leaders of the National Woman Suffrage Association welcomed her into their convention with "anthems to Woodhull" in the words of the New York Times. In the coming months, suffrage leaders like Elizabeth Cady Stanton and Susan B. Anthony praised the grand work she was doing to win women the vote.
Elizabeth Cady Stanton praised Woodhull for "the grand work inaugurated by you" and called Woodhull & Claflin's Weekly "the ablest woman's journal we have yet had discussing the great questions of national life.
Susan Anthony wrote "Bravo! My Dear Woodhull ... Go Ahead! bright glorious, young and strong spirit and believe in the best love and hope of S. B. Anthony."
Over the next year, Woodhull advocated for women's rights in speeches through much of the country. Her views were radical. Suffrage was a means to the broader goal of opportunity for women rather than oppression. She built a coalition combining suffrage with spiritualism, labor, temperance, human rights, "all the branches of radicalism and reform." In May 1872, leaders in these areas convened as the Equal Rights Party and nominated Woodhull as their candidate for President of the United States, with Frederick Douglass named as her running mate.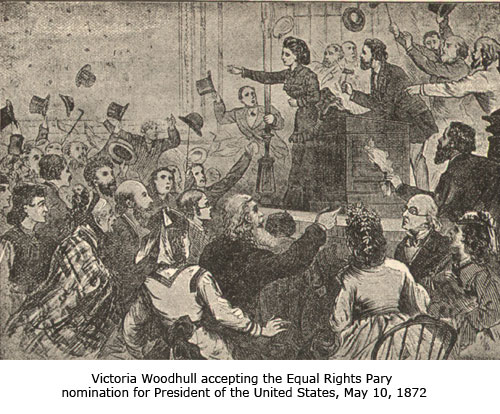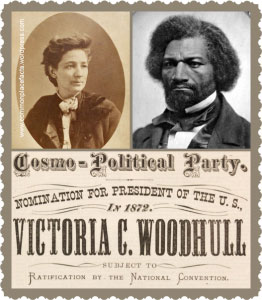 Sex, Suffrage, & Scandal
in Gilded Age New York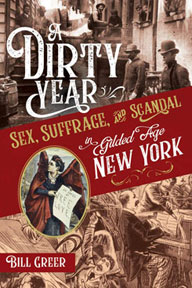 A nonfiction narrative of 1872 New York, a city convulsing with social upheaval and sexual revolution and beset with all the excitement and challenges a moment of transformation brings.
"Solid Research and
Outstanding Storytelling"
- Booklist
And from New York's Dutch Era
A Novel of New Amsterdam
The Mevrouw Who Saved Manhattan
"[A] romp through the history of New Netherland that would surely have Petrus Stuyvesant complaining about the riot transpiring between its pages."
- de Halve Maen, Journal of the Holland Society of New York